tecnica:motori:honda_ntv650
Table of Contents
Honda NTV650 Revere
In pista con gli Honda Days
Honda Days, Autodromo di Vallelunga, 10 maggio 2003. In pista con la vecchia Revere: 12 anni, 116.000 km.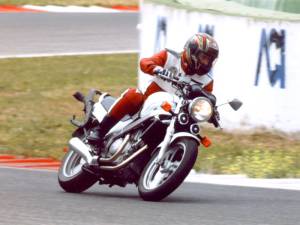 154.000 km
In a cold saturday of february, when the bike was 15 years and 154.000 km old, she didn't start. The spark plugs got wet of gasoline and dirty, I cleaned two of them but it was not sufficient to start the engine again. After some minutes also the battery started going weak. The spark plugs were only 6.000 km old and too much dirty; it was also too much time that the bike did not her 24 km/l any more (just 19). It was evident that some deep maintenace was needed.
Here are some photos of what i found inside the engine. Many carbon deposits on the ceil of the front piston (the rear one was much cleaner): Carbon went wet by the gasoline, detached itself and filled the plug gap, this was the main cause of the engine not starting. Blowing with compressed air into the engine head - after removing both the plugs - may will cleaned the piston a bit, without the need to break the engine apart.
By contrast the wear of the cylinder was very low, after so many kilometers you still see the honing signs!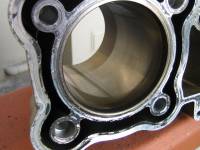 I took the cylinders to the shop to be bored and honed and I purchased two shining new pistons.
Disassembling the engine
The main problem was removing the flywheel and the clutch. The workshop manual suggests to use the Honda special tools:
07733-0020001 Rotor puller (Estrattore rotore)

07725-0040000 Flywheel holder (Attrezzo bloccaggio rotore)
I purchased the rotor puller on the web from SG Motorsport (www.inter-bike.co.uk). They answered kindly and quickly to my email, the shipping is a bit pricey but in 5 days I got it. The clutch holder was made with a lathe by a friend of mine. Here they are two photos of the tools:
I ordered all the spare parts from my Honda dealer; I'm still amazed that I can find every part of the bike: pistons, gaskets, bolts, … down to the smallest washer. All of that more that 10 years that my bike is out of production and despite the fact that this model was not so popular in Italy. This is why I will purchase Honda again!
201.000 km, sostituzione membrane carburatori
La prima volta ho sostituito i cilindri depressori completi di membrane dopo 12 anni, a 113.000 km. Dopo altri 12 anni (24 anni e 201.000 km in totale) le membrane erano di nuovo da cambiare come si vede in foto: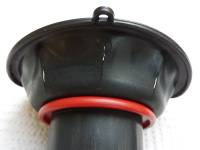 Purtroppo mamma Honda non produce più il ricambio (codice 16112MN8014)! Esistono almeno tre tipi di membrane non originali adattabili alla NTV650, che si differenziano per il modo in cui vanno installate. Un tipo prevede il taglio dell'anello di plastica superiore (quello nero) che poi va rimesso al suo posto e incollato. Un secondo tipo invece prevede che l'anello nero debba essere tolto e gettato (è il modello Librane che si vede nelle foto seguenti), la membrana di ricambio viene tenuta al suo posto con colla cianoacrilica. La colla fornita in dotazione è di tipo gel, resistente alla benzina e alle alte temperature. Infine esiste un modello che deve essere installato al pari dell'originale, inserendola nello spazio tra i due anelli rosso e nero.
Nelle foto seguenti si vede l'installazione di una membrana di tipo Librane.
Prima di togliere la vecchia membrana si segna sul pistoncino il punto a cui corrisponde l'asola della membrana, perché quella nuova dovrà essere posizionata esattamente alla stessa angolazione. L'anello nero può essere tagliato con un cutter e rimosso. La cava può essere pulita e sgrassata con diluente sintetico. Bisogna avere l'accortezza di stendere uno strato molto sottile di colla, in modo che la membrana entri bene nell'alloggiamento senza incontrare spessore.
Appena montate il risultato è apparso buono: la precisione e la sensibilità del gas era notevolmente migliorata rispetto alle vecchie membrane fessurate. Tra qualche mese controllerò l'effettiva tenuta della membrana e soprattutto della colla. Quella fornita in dotazione riporta tra le caratteristiche una temperatura massima di esercizio di 80 °C. Probabilmente la Loctite 454 ha caratteristiche migliori.
Disegni esplosi e codici dei ricambi
Consultate il Catalogo EPC (HONDA Motorcycle Electronic Parts Catalogue).
tecnica/motori/honda_ntv650.txt · Last modified: 2015/07/12 21:46 by niccolo
---